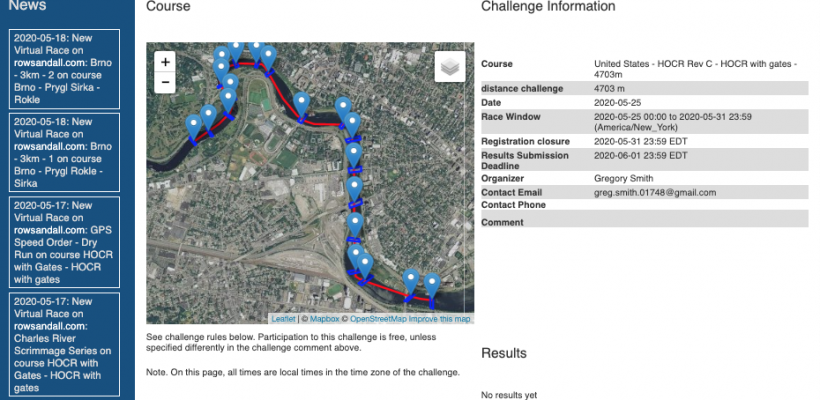 Got a phone and a ziplock bag? Then you can enter the GPS speed orders!
With normal training and competition disrupted by the CIOVID-19 pandemic, rowers need new ways to stay motivated and new ways to satisfy their thirst for competition.
You have seen this in the unprecedented string of new world records on the erg.
And you can see it in other sports with top notch cyclists piling into Zwift and with premier running events like the Boston Marathon going virtual.
Rowsandall has long had the capability to support "virtual" competition, both on the water and on the erg, and recently this capability has been getting a lot more use.  It is also being enhanced at a rapid pace to make competition more fun and easier to participate in.
We are in the middle of hosting a week long challenge on the Charles River, which is open to all single scullers, and free.  We are planning to follow that up with more challenges so that rowers will have opportunities to race against people in their areas, while observing the spirit and letter of the rules keeping us safe during the pandemic.
Here is an overview of how it all works.
The way that online challenges work for on the water racing, is that you record your row with a GPS device, and then upload your data to rowsandall which then checks that you rowed the course and figures out how long you took to do it,
So, that brings up the obvious question:  How do I record my GPS data over the course?
Note:  All of the following assumes that you have set up your FREE account on rowsandall, which you can do by following these instructions.
That is what I want to try to answer here.
I did the challenge on Thursday morning, and I took along a few toys so that I could test out some of the ways that you can come and compete.  The odds are nearly certain that you have some or all of these toys too.
Here is what I brought with me:
iPhone
Old Samung Tablet running Android
Apple Watch
Speedcoach GPS
I recorded my row with all four devices and I was able to upload entries from all four.  In this article, I'll talk about one way to record and post a result from your smart phone.  In the next article, I'll talk about recording and posting a results from your fitness watch.
If you are going to bring your phone in the boat, the first thing you should do is provide some protection from water.  At the simplest level, this can just be a ziplock bag, and then you can stash your phone (after you started recording), up with your water bottle.  That's what I did with my samsung tablet, and it worked fine.  It will keep your phone dry and you can work the touch screen through the bag, but there are two disadvantages.  First, if you flip, your phone is going to sink.  Second, you won't be able to see the screen while you row.
You can secure your phone with a simple waterproof bag and lanyard. You can then tie the lanyard to the foot stretcher and you're good to go.
If you want to see your phone, there are a ton of waterproof cases and mounts.
The BoatCoach guy sells a mount that slides into a standard NK speedcoach bracket.
The nice guy who runs CrewNerd wrote a whole blog on mounting phones in boats.
Once you figure out what you want to do with your phone, then you can move onto recording and uploading your results.
iPhone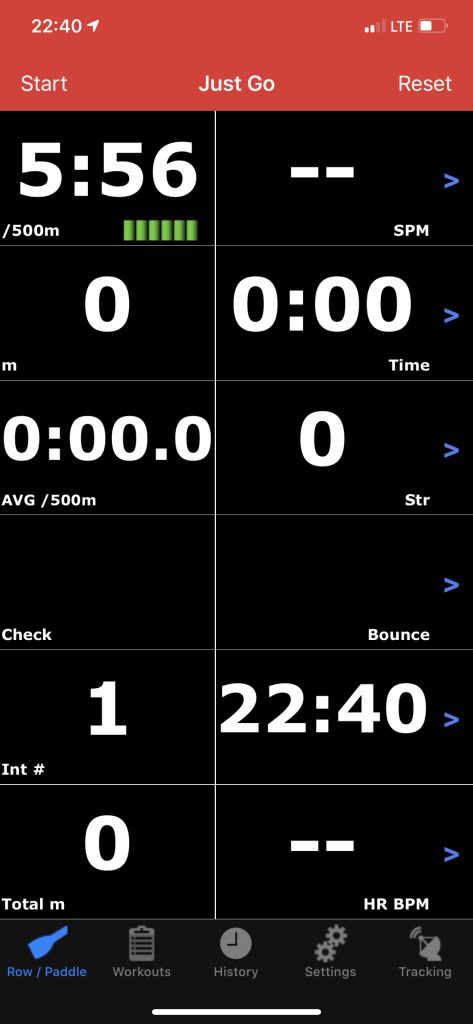 To use an iPhone to record your row, you need an app.  The app that I used is called CrewNerd and it is a really great rowing focused app.  There is a useless free demo version, but to use it to collect data (and do other stuff like a speedcoach), you need to shell out $49.99.  Less than the entry fee for most regattas.
If all you care about is recording the row, chuck you phone in a ziplock, start up the app at the dock, push start, and stash your phone in the footwell.  If you want to look at your phone, you'll need to figure out a way to mount it.  I use a waterproof case with a quadlock mount, but there are literally hundreds of ways to do it.
When you get back to the dock, push "stop", and then go to the history page (the clock icon).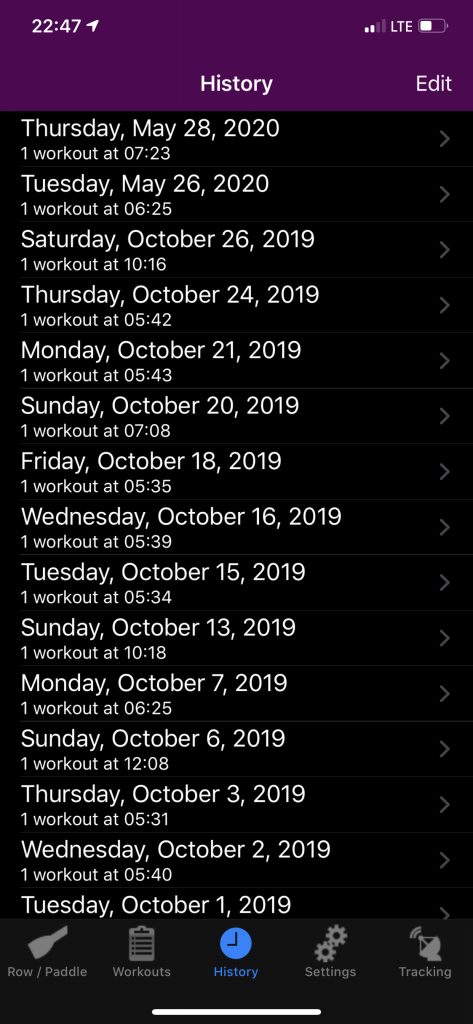 Select your row. and you will see a page like this.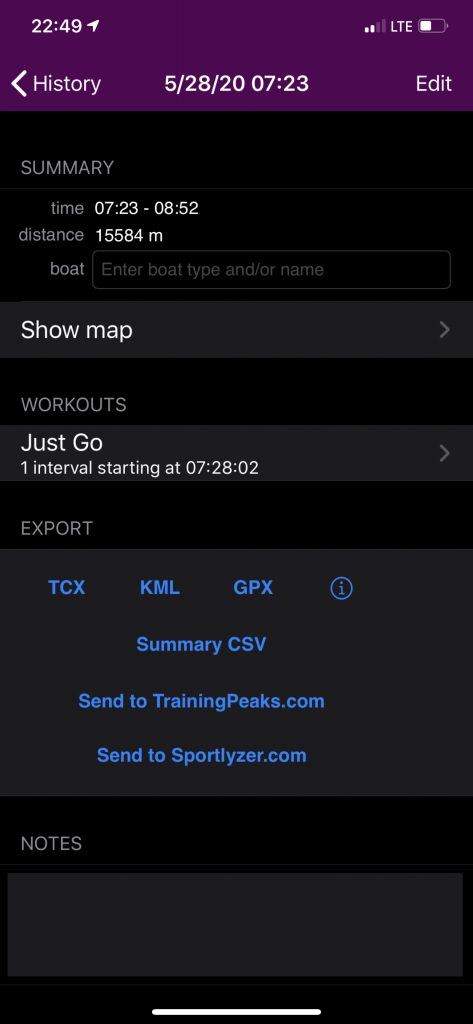 To send your data to rowsandall, all you need to do is punch the "TCX"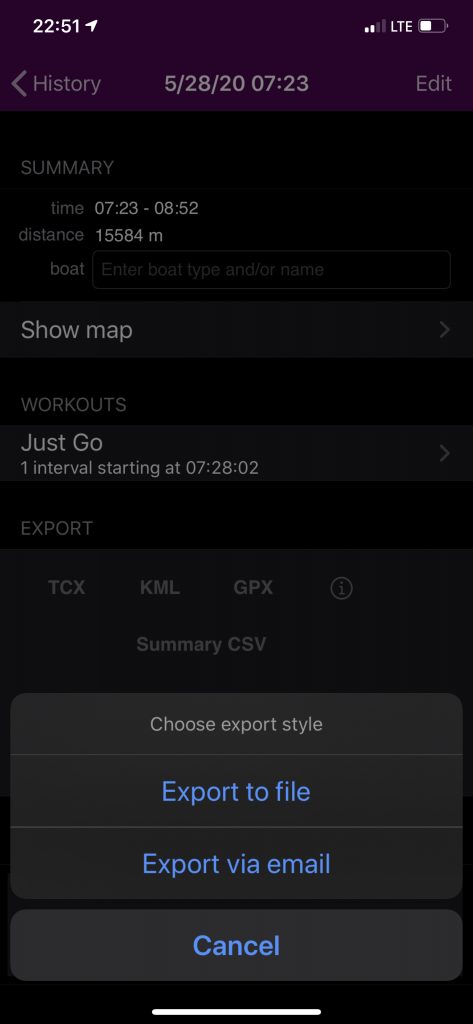 Now select Export via email.  This is one of the cool features of rowsandall.  You can import data directly using email.  Just address the email to workouts@rowsandall.com, and the website uses the email address that it is from to figure out your account and uploads the data.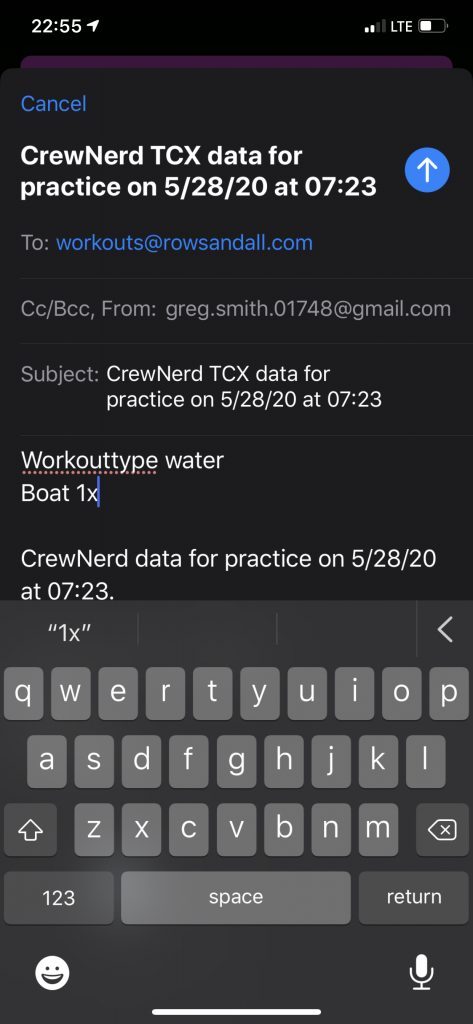 Another little trick, if you include the text
workouttype water
boat 1x
These will be set correctly so you can submit your results easily.
After that you can go to your rowsandall log and see your glorious workout.
Android
I don't have an Android phone, but I do have a crappy old tablet with a cracked screen.  As long as your tablet or phone has a GPS chip (and they all basically do), you can use it to record your row.  Again, you can probably use most general purpose fitness apps like Strava or Qahoo, but there are some great rowing apps.  I used an app called BoatCoach, which is cool because it also hooks up to the Concept2 PM5 and allows you to record erg workouts too.
There is a far more capable free version of boatcoach than CrewNerd, but if you want to save and send your data, you need to spring for a $19.99 upgrade.  Which is less than you paid for a tee shirt at your last regatta.
So I grabbed my tablet, stuffed it in a ziplock, fired up boatcoach, and stuffed my bagged tablet behind my sandals in the footwell.
When I got back to the dock, I fished it out and went to the magic ellipsis menu at the top right of the screen.  Then I selected "Email raw data".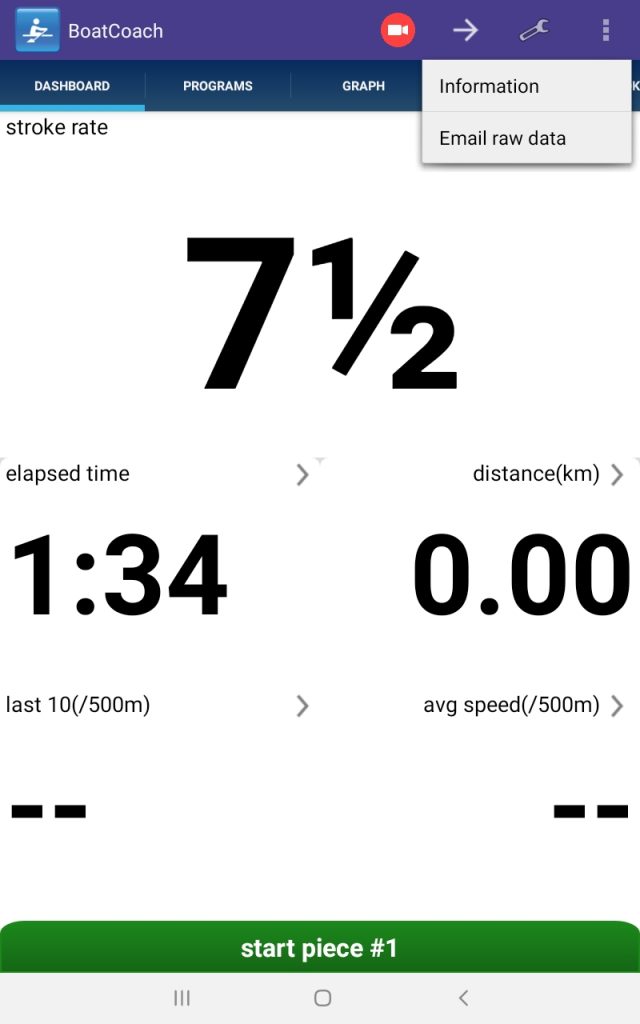 This brought up an email with the data.  I filled in the address to send the data "workouts@rowsandall.com", added the description of the workout
workouttype water
boat 1x
And sent it off.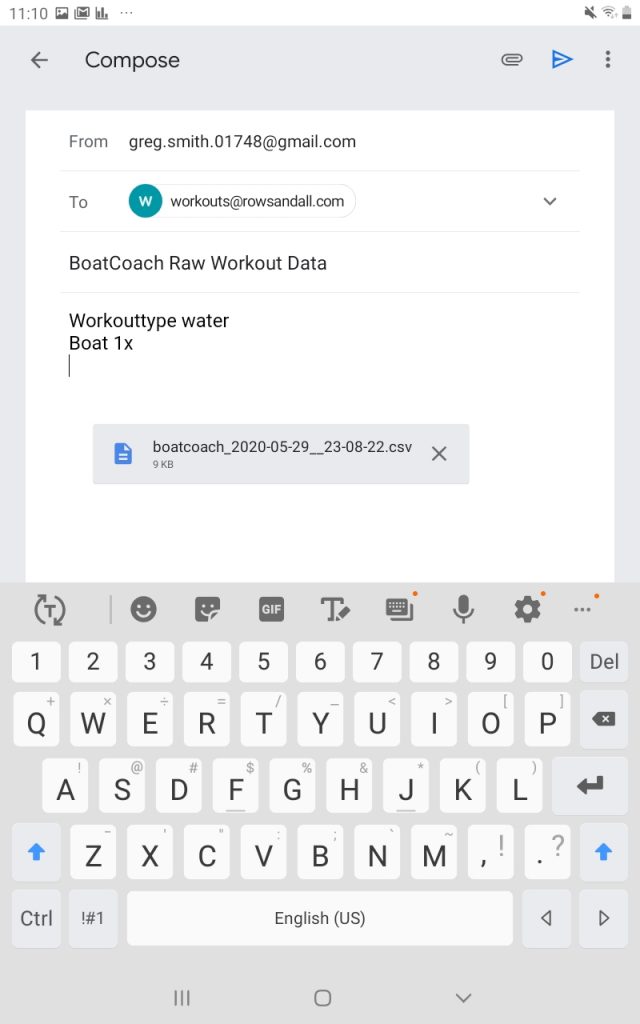 Your file will be processed by rowsandall and it will calculate you time over the course.  Once it's done, you'll see your result in the standings.
Happy racing!