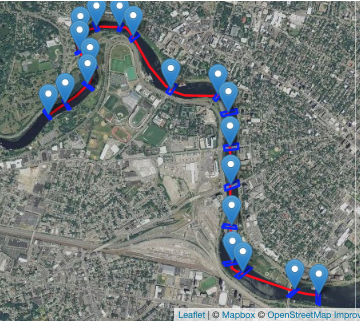 Charles River GPS Speed Orders – Results!
Over the past week, a group of rowers have been trying out a new way to compete on the water, while respecting COVID-19 related restrictions on organized events and large groups.
The concept is simple.  Row the course with something that can record your GPS data, and then upload your results.  Your time on the course is calculated and your results ranked.
There were 7 rowers in 4 different age/gender groups who completed the challenge.  The overall men's winner was Greg Benning.  The overall Women's winner was Mollie Watkins.  A special award for "Tightest Line" was earned by Carlo Zezza, who managed to row the course in a remarkable 4601 meters.  Not surprising, since he wrote the book on "Winning Head Races"
Here are the complete results:

Everyone is invited to register and compete in the Charles River GPS Speed Order – June Challenge.  This challenge runs from June 1st to June 30th and is open to classes of 1x.
There is also a challenge running on Lake Quinsigamond from June 1st to June 30th.  The Lake Quinsigamond GPS Speed Order – June Challenge is also open to all 1x classes.
Come out and throw down!  All you need is a smartphone or a fitness watch to log a result and it's free!