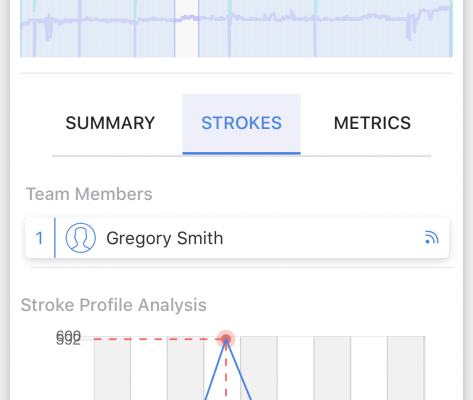 NK Link Logbook — First Impressions
Here is a link to a side by side comparison table:  rowing online tool comparison.xlsx
As an enthusiastic user of an NK speedcoach GPS and EmPower oarlock, I am always interested in new capabilities that NK has in their product pipeline.  At this year's Head of the Charles regatta, NK announced a new online logbook product to use with the speedcoach gps called the NK Link Logbook.
So what is it and what problem is it trying to solve?  The speedcoach provides a fantastic tool to get live performance data in the boat when you practice.  And this has been true for years, even before the Speedcoach GPS, there was the stroke coach which provided rate, and the Speedcoach Gold and XL which used an impeller to also provide pace data.  The speedcoach Gold and XL also provided a way to measure heart rate.
This has helped rowers to improve the way that they train by providing instant feedback about how fast they are going, and how hard they are working.  But it has always been a challenge to capture and use this data after a workout.
Back in the days of the speedcoach XL, to look at your data after the session, you needed to buy a special cable, run a program on your PC, and upload the data.  Then you could export the data to excel and play around with it.
With the speedcoach GPS, things got a lot better.  If you buy the training pack, you can hook the Speedcoach up to your smartphone by bluetooth and wirelessly transfer your session data using an app called NK Link.  From there it's easy to get your data into rowsandall and once it's there, you can do just about anything you want with it (including send it to other fitness sites like Strava automagically).
So, if things are so great, what's the point of the new NK Link Logbook?  Well, it improves a few things and adds some exciting new capabilities to what the existing Link app does.
Before I get into the details, a quick caveat.  NK has ambitious plans for the NK Link Logbook, but the capabilities are going to be rolling out gradually over the next 6 months or so.  I'll do my best to be clear about what exists now and what is coming, but I expect it's going to be evolving rapidly.  Also, different levels of functionality require different subscription options which cost different amounts of money.  I've tried to summarize that in the attached table, but I bet it changes with time.
As it looks to me, there are three main things that NK Link Logbook will provide.
First, it will give rowers the ability to do some basic session analysis inside the app.  These seem  to be mostly focused on EmPower users.  The coolest example is that you can pick a time range in a session and look at a Empower Stroke profile for that range.  So, you could pick a range where you are rowing at 26 spm and see what kind of an effective angle you are rowing through, then change the range to one where you are rowing 28 spm and compare.
Second, there will be features added so that you can live stream your data from the speedcoach to app while you row.  There are a bunch of reasons why this is cool.
You won't need to upload the session later
A coach could be watching live data from multiple boats from the launch
You could stream your live data  to your adoring fans along the riverside so they can see the fat watts that you are laying down in a race
You could see live boat data on a map view
Third, it will understand the concept of teams.  So, coaches and team mates will be able to see session data, and monitor athlete progress.
A Tour of NK Link Logbook
Here's a quick tour of the app.  When you start it up, go to the "Workout Log" screen.  At the top, you'll see a button to import your sessions from the speedcoach.
If you have uploaded a workout on a day, there will be a dot on the calendar for it.  If you pick the day, you get a summary for that day's sessions at the bottom.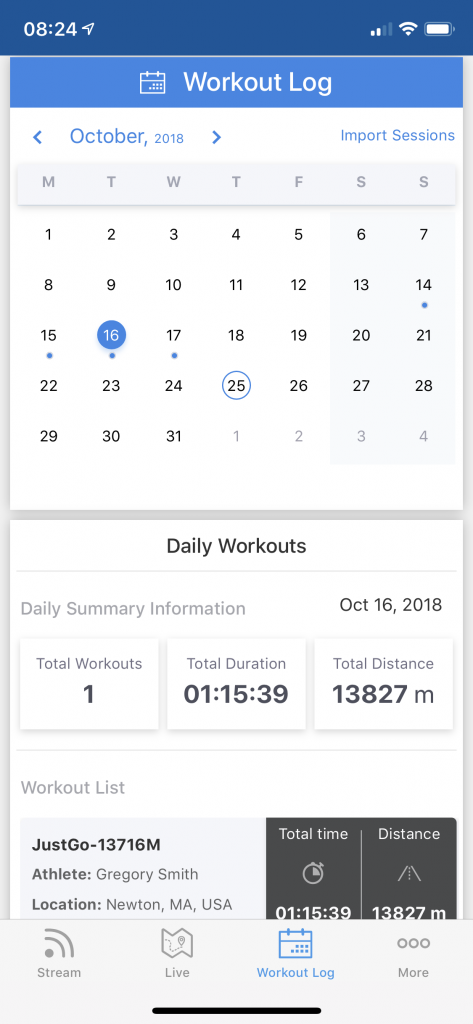 Touching the summary, brings to to the session screen.  This is centered around a pace and stroke rate chart on top and a map view below.  The tags at  the beginning and end of the chart can be moved to define ranges.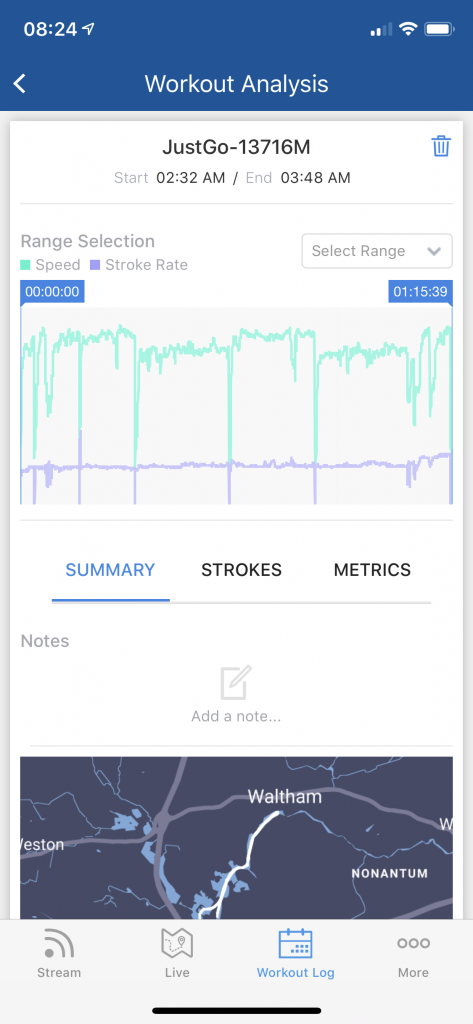 Here I defined a downstream and upstream segment.  When you pick those segments, the summary and metrics are for the selected segment, not the whole row.  A cool, subtle feature is that the map is also highlighted to show exactly where on the river the segment was.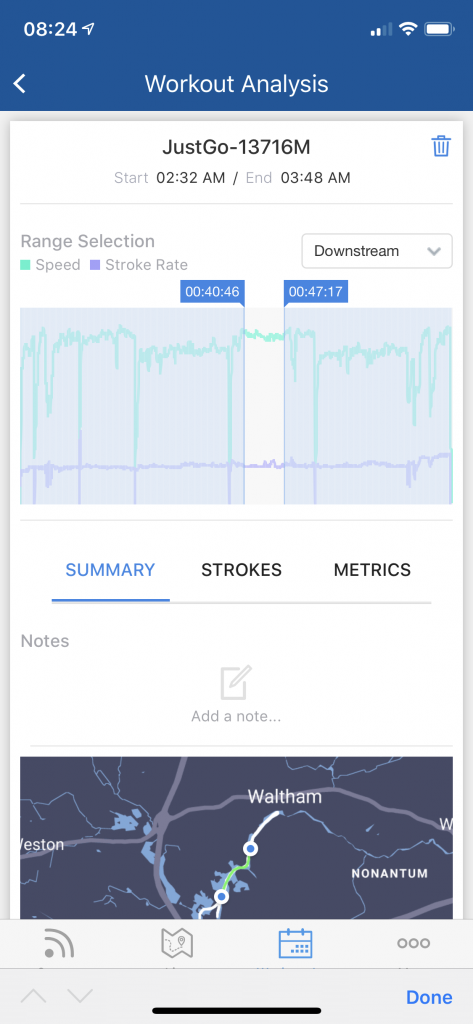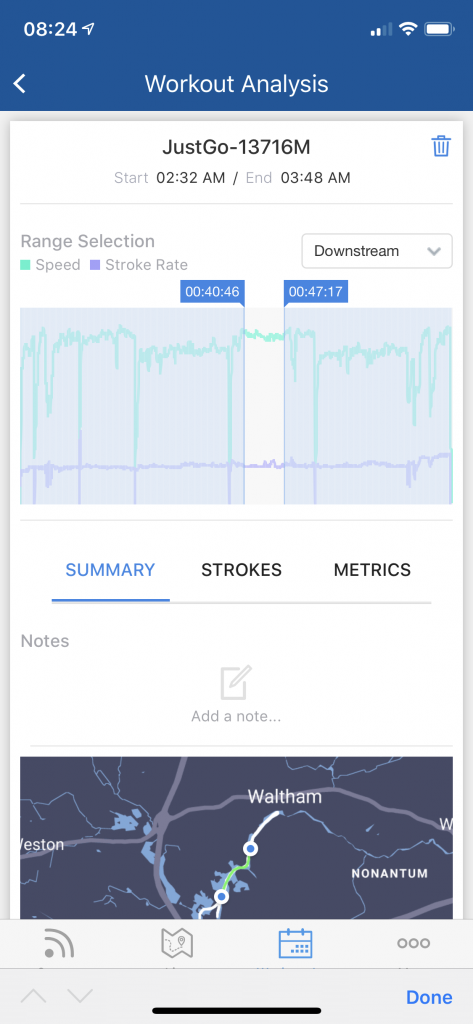 Here I scrolled down and you can see the summary stats.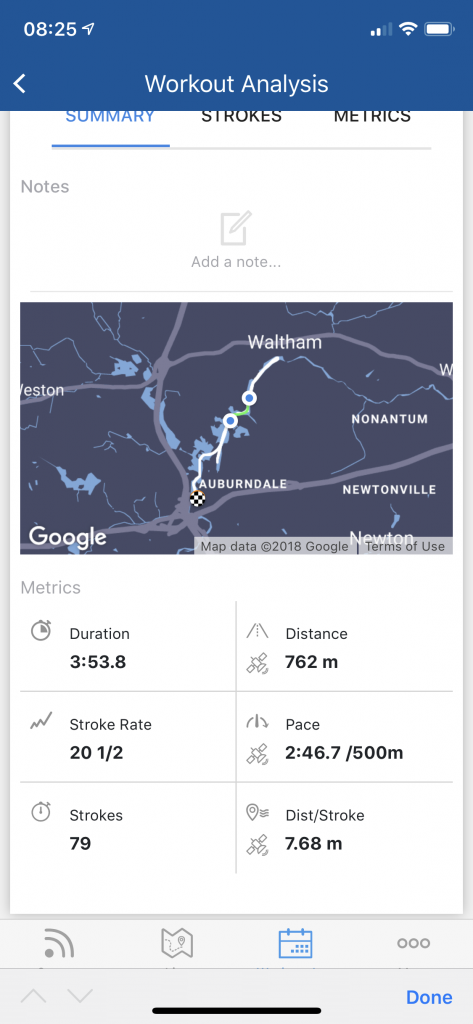 If you pop over to the strokes view, you get a graphical stroke profile which shows you catch angle, slip, peak force, peak force angle, finish angle and slip.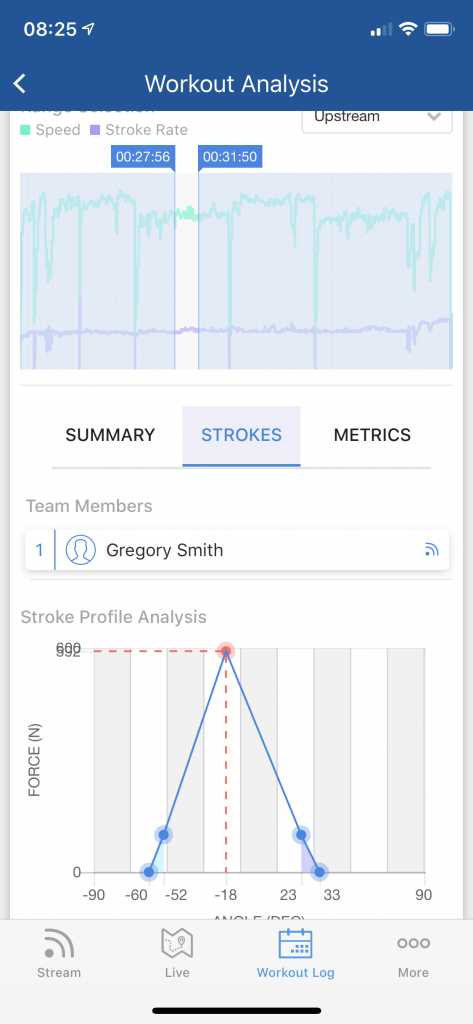 There is also a metrics page that provides all the empower parameters for the segment.
Conclusion
So how does this new tool fit I with everything else that I use?  I just started to think through this.  When I get off the water, I upload my workout from the speedcoach using NK Link, and then export it by email to rowsandall.  I have rowsandall setup to automatically sync my workout data with both Strava and the Concept2 logbook.
Each of these destinations has a different purpose.
I use Strava to keep track of total training load and progress, and also for the social angle.  A lot of people that I know are on Strava and it's fun to see each other's training.  I've also set up some segments and it's cool when I get a "King of the Mountain" for one of them.  Heat maps are also wicked cool.
I use the Concept2 logbook to keep track of total meters and for online rankings and challenges.
I use rowsandall for just about all post rowing analysis.  I also use it to generate plots that I paste into my training journal so I can track progress.  I will be starting to use it also for training planning and tracking.  It's really the hub for all my other stuff.
Until the NK Link logbook supports export, I really can't use it.
Once it does support CSV export, I will almost immediately switch over to using it.   I don't see it taking the place of the my other online tools, but I imagine using the app quite often to quickly review how a session went.  It will be great to be able to quickly see what power I maintained over an interval, or if I was able to succeed at hitting a target catch angle.    I'm excited to see how it evolves over time, but a lot of the functionality that NK is talking about is not really aimed at me, an individual sculler.
Many of the features are aimed at rowers or a coaches in a club or school programs.  Live streaming will be a fantastic tool for a coach to use on a daily basis.  Just think, no more cheating on rate during a power paddle.  Also, for a coach, the ability to compare stroke profiles and power by seat will be very useful, especially in seat racing.  (See this article).
The streaming functions will also add a new dimension to racing.  NK will include public streaming in the basic version of the app.  So, when you are racing, your friends will be able to watch in real time what rate and pace you are at, and even use the mapping features to figure out where you are.  This will be great in head racing season so you can figure out when someone you know will be going by.
I'm very excited by the possibilities of the NK Link Logbook, especially the live features.  That complements the other tools that I use and opens up new opportunities.