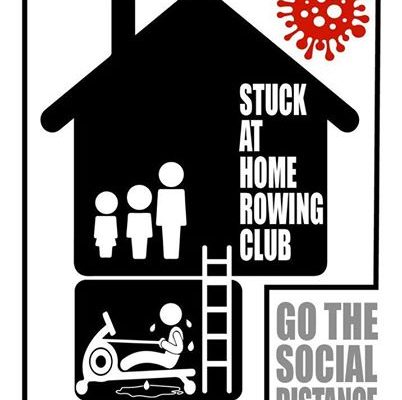 Welcome to the "Stuck at Home Rowing Club"
So, are you self quarantining?  Working from home?  Disappointed about cancelled races, trips and social activities?
Well, do we have an idea for you!  We are starting a training group to help us fill the gap, stay in shape, and feel like part of a community.
The group is mainly aimed at competitive masters rowers, but everyone is welcome to join.  We will be following a basic polarized training structure.  You can opt into, or out of any workout.  We will be using rowsandall to share results, but you work on your own if you like or share monitor pics.  We will also use a facebook group to talk about the training, and to poll members for sessions for the coming week.
The workouts will be designed to be done on the erg, or on the water.  Interval sessions will be time based so that rowers of different ages, genders, and fitness levels will be able to complete workouts.
With polarized training plans, there are easy, base sessions and there are more intense sessions.  There is evidence that very intense workouts can cause immuno-suppression for 48-72 hours after the session, so you should be careful about how hard you go at the more intense sessions.
You may want to check out this article: https://gillianshawcouk.wordpress.com/2020/03/09/coronavirus-and-rowing-is-it-dangerous-to-train-are-there-some-people-at-more-risk-what-precautions-should-you-take-antonio-spataro-medical-officer-to-the-italian-rowing-association-gives-his-op/
A typical week will include 6 workouts.
3 endurance builders
1 body weight circuit
2 harder sessions
The endurance builders will include a variety of sessions
Rate ladder workouts (like Wolverine plan L4s)
Continuous steady state
Long easy intervals
Dart Games (if you have a PM5, I highly recommend it!)
If you have the opportunity for cross training like running, swimming or biking, substituting that for the endurance sessions is highly encouraged.
The harder sessions will generally include on session with shorter intervals and one session with longer intervals or hard continuous pieces.
Short intervals – 1' to 4' work – nice long rests
Long Intervals – 5' to 10' work – 5' rests
Short interval stacks – sets of 30" to 60" intervals with short rests

3 x (13 x 30"/15")/5'
3 x (8 x 45"/15")/5'

Push workouts – start slow, finish fast
Threshold intervals – 2' to 3' with 1' rests
Hard steady state (20' to 60')
The body weight circuit will provide some cross training and help people learn new stretches and exercises.  There will be a short erg based warmup on body weight circuit days.
We will provide some pacing guidance for workouts.  To get that scaled, we recommend that people either do a 20 minute test, or make a guess at their pace or power for a 20 minute piece.  I am planning to do a test now and then repeat it every couple of weeks to see how the plan is working.
Happy rowing and stay healthy!
Greg and Sander