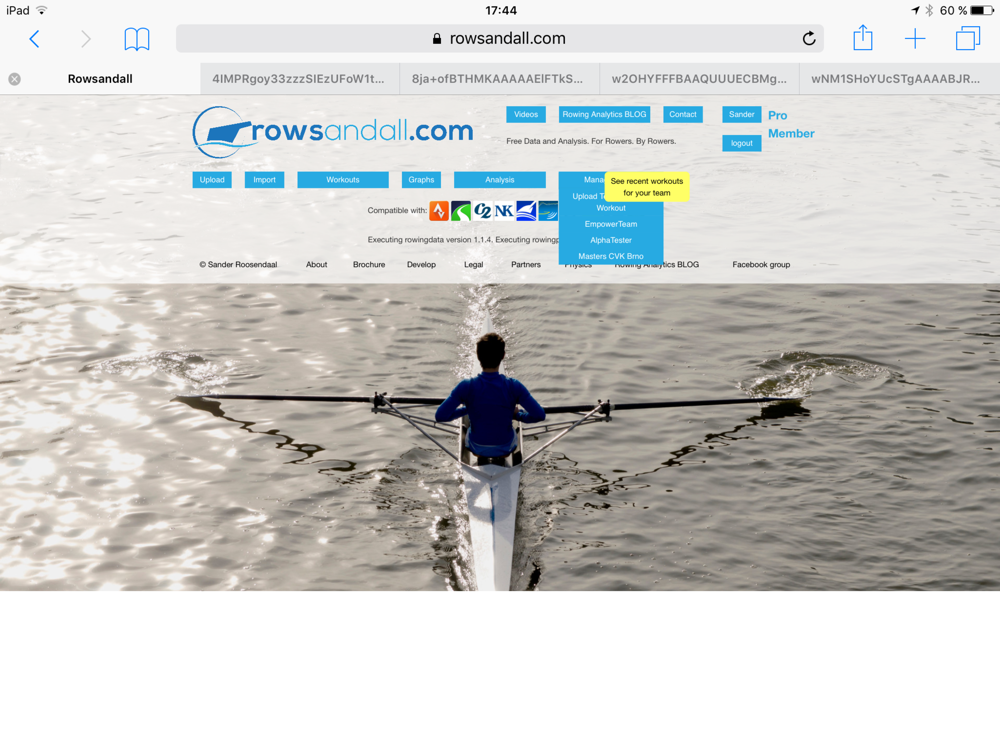 We are launching rowsandall.com for rowing coaches and teams. With a free trial month. No obligations. Try out data driven rowing!
Introduction
Why rowing coaches should use a data driven approach
Rowsandall.com originated from the needs of individual rowers to record their rowing and erging workouts in a consistent way, to enable monitoring progress (or the lack thereof) over time, and allow them to draw conclusions from data presented in a well thought-out manner.
Coaching a rowing team means helping that team make progress and achieve its goals, whether that is winning the Olympics or "just" being fit enough to complete a long coastal row. A data-driven approach can be a very powerful tool to help your team achieve their goals.
How? A data driven approach will enable you to
Use the data to make individual training plans taking into account each athlete's fitness level, individual strengths and weaknesses – thus maximizing their progress for a given training load
Show and explain the data to your athletes. They will be curious and ask challenging questions. This will make you and them smarter and better motivated
Use a data driven crew selection process. This will give you a way to communicate clearly what is needed to make it to the A boat, which will motivate those that didn't make it (yet) and will reduce gossip to a minimum
Figure out the best race plan and train to execute it.
Achieve consistent race results
In short, data give you the best chance to outperform stronger, more resourceful teams.
We are launching rowsandall.com for rowing coaches
Since March 2017 we have been trialing the Team functionality of rowsandall.com. We are now ready to launch and I am excited to explain some of it to you in this article. Of course, it is up to you as a coach to make maximum use of it, but at rowsandall.com we believe in the power of trying, recording, adapting, and improving, in the features of our site as well as with our training. You will always be able to approach us with feature requests, improvement suggestions, and questions.
Because the fundamental principle of this site is the love for rowing data, and because we founded rowsandall.com to free our rowing data and develop the best tools to explore those data, we will always have an open ear for cool new, useful functionality. We are dedicated to continuously improve the site, and actually, rowsandall.com has shown itself to be unique in implementing user requested features very quickly. Basically, if a kind of analysis is helpful for you as a coach, and you can explain why it would be useful for a significant group of users, there is a good chance it will make it to our roadmap.
Getting Started
What do you need?
Whether you are a remote coach or coaching at a club or college, your team members will need ways to capture their rowing workouts. For the erg workouts, the easiest way is to have Concept2 ergs equipped with PM5 monitors and use one of the many smartphone apps on their phones to capture the data. For older Concept2 monitors, you will need a cable. It is recommended that each athlete have their own heart rate chest strap connecting with the monitor.
For on-the-water rowing, each athlete will need a measurement unit. This can be a NK SpeedCoach (with or without the Empower Oarlock), but there are also excellent smartphone apps (we like CrewNerd and RiM), which you can use on your smartphone in a water resistant pouch. See our articles about getting started on the erg and on the water rowing for more details.
It is perfectly OK to use a mix of devices. Our beta tester team uses SpeedCoach, RiM and CrewNerd on the water, and ErgData, BoatCoach and Painsled on the erg, switching app and device depending on the circumstances. The rowsandall.com data analytics power will make sure the data are comparable on the site.
How to set up your team
The first thing you should do is to send an email to info@rowsandall.com to request access to the Team functionality. This is a paid functionality with the price being set individually depending on your team size, the level of support you need, as well as for how long you sign up. Of course, we will offer you a free trial period, without any obligations 1.
To give you an idea of our pricing, where rowe.rs charges $100 per athlete per year, with rowsandall.com you will pay the equivalent of a rowsandall.com Pro membership (€15 at the time of writing), per athlete per year, for a team up to ten athletes. For larger team sizes, the price per athlete per year will drop, and we guarantee that you will never pay more than TrainingPeaks, or SportTracks 2. Did I mention that you get the first month for free, without any obligations?
When we process your request for Team Functionality, we will set your account to 'Coach'. This gives you access to the team management page.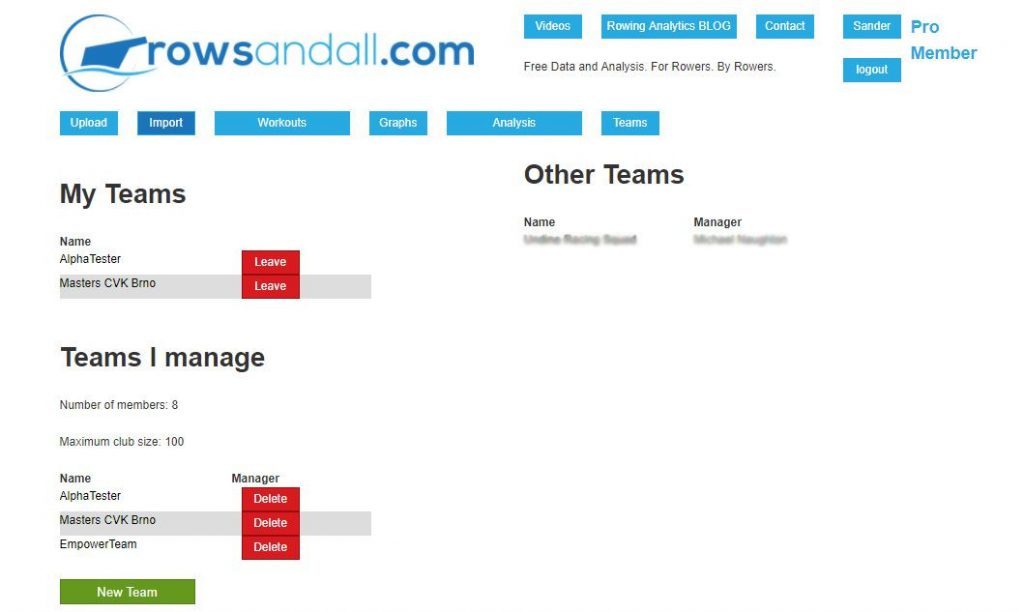 On this page, you can see the teams you are a member of, the teams you (as a coach) are managing, as well as any 'open' teams that you can request access to. You can also create new teams. It is important to point out that your Team module is limited only by the number of individual athletes linked to your teams. This means you can make any number of teams and each of your athlete can be in a number of them. You could use this to create line-ups, manage different training groups (for example Men, Women, Junior Women, etc) or use teams in any smart way that helps you.
As a new coach user, the first thing to do is establish your first team.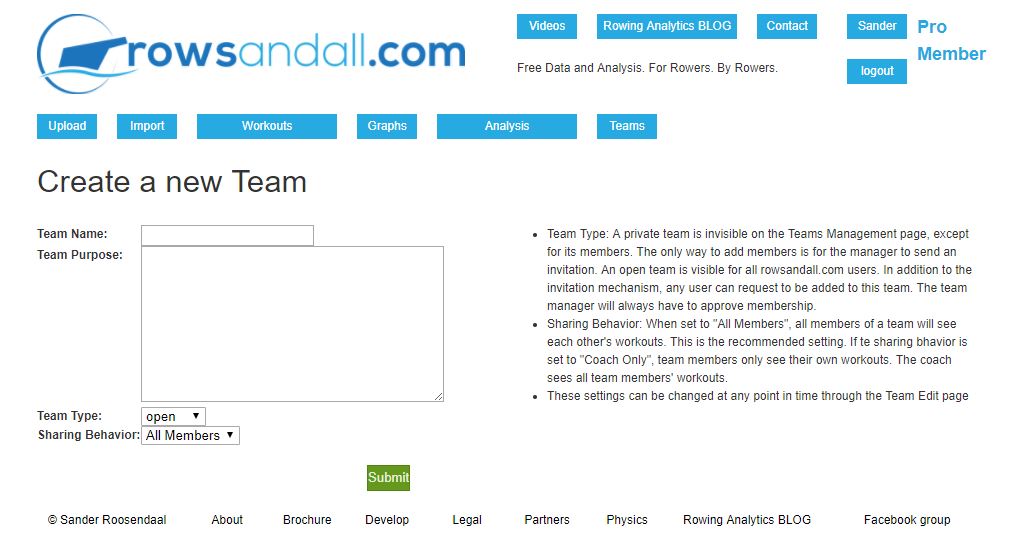 The New Team page is quite straightforward. You have to give your team a name. There is a text field to describe your team, so that members and potential members are sure why this particular team exists. Finally, the Team Type can be open or closed. An open team is visible to all rowsandall.com users and any of them could ask to become a member. This is very useful for remote coaching. The only thing that non-members see about an open team are its name, purpose and the members list. The data are private and visible to team members only. A closed team is only visible to its members. If you are not invited by the coach, you will not know it exists.
Finally, sharing behavior determines if team member workouts are visible to the coach only or between members. We encourage to allow sharing between members, but there can be valid reasons to restrict the data to the coach only.
Once you have created the team, you will be taken to the team page.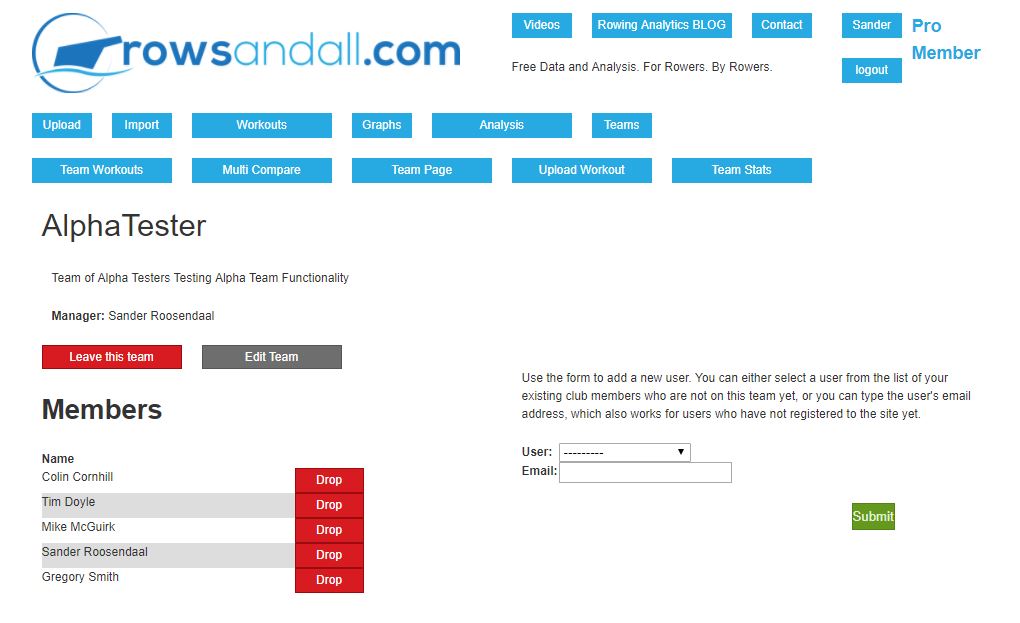 The blue buttons on the top are links to team analysis functionality, which I will describe below. The page also gives you the option to leave the team. Then there is a list of members. If you are the coach, you can drop team members. They will get notified by email when you remove them from the team.
When you start with a new team, the list will be empty. Your next task will be to get your athletes in the team. That is done on the right-hand side of the page. You can either select users from a drop-down list or fill in their email address in the text field. The drop-down list contains all athletes that are already in one of your other teams. So when you start, because of privacy reasons, the drop-down list will be empty and you will have to know your athletes email addresses.
When you click the button, the athlete will get an email notification. If he is not a rowsandall.com user, he will first need to register for the free membership. After that, he will be able to see pending invitations and accept them. Existing users just click on the link in the email. As the coach, you can see pending invites at all times on the Team Management page. You can even revoke them, in case you changed your mind.
For large teams, contact us at info@rowsandall.com and we will be happy to create the accounts automatically, for example from a spreadsheet with names and email addresses.
Getting your team workouts on the site
How do you get all workouts of your team on the site? There are several ways:
The athlete can do it. Your athletes have all upload functionality at their disposal.
You can do it for your athletes. Sometimes the coach or the rowing club owns the measurement units, in which case it is more practical that you do it. Under the team menu (see image below), you will find a link to upload workouts on behalf of your team members. You will go to a page that looks very similar to the normal upload page, but you will be able to select the name of your team members. You can even upload many files at once by packing them up (per athlete) in a zip archive.
An athlete's workout will be visible in all the teams he or she is a member of.
Using Team Functionality
So what do you get with with your Coach membership? A lot, actually. First, under the Team menu, browse to the workouts list of one of your teams by clicking on the team's name in the pop-up list 3.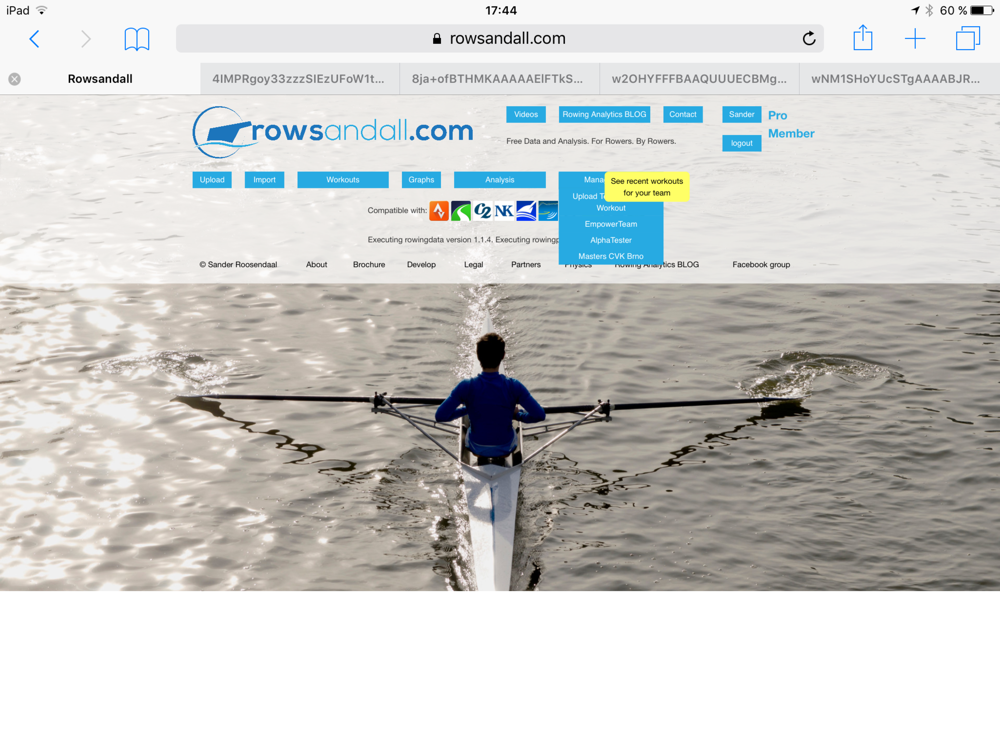 The list of workouts will look familiar: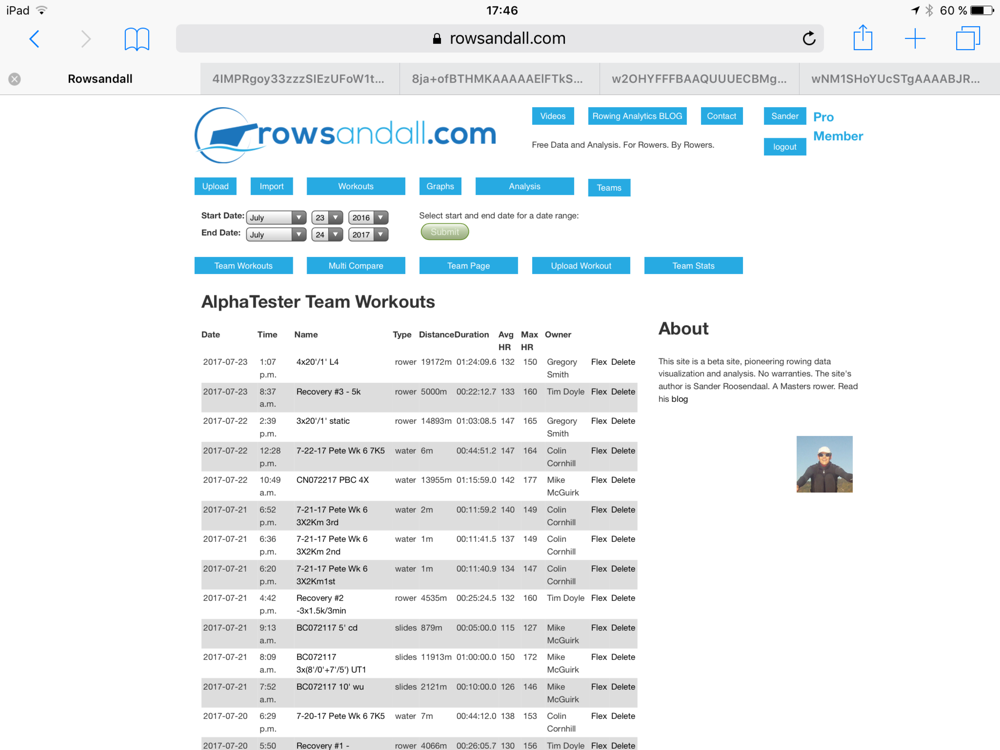 It is a workout list and it works just like your personal list of workouts. The only difference is the extra column with the name of the athlete. By clicking on the workout name, you get to see the workout details, and there are shortcuts to the Flex chart and to delete the workout.
See and edit all members workouts in Pro mode
As explained above, you have access to all workouts of your team member in Pro mode. So you can go into the workout page, and use all the functionality that is available on the Edit and Advanced Edit page, including the static plots, the Flex Chart, workout statistics, export to Strava, interval editor, and more.
If you have activated sharing between members, each team member can view all workouts of the team, but they cannot edit or delete them or create new charts. That functionality is limited to you, as the coach, and the athlete who owns the workout.
Discuss workouts
You can comment on the workout. By clicking on the Comment link in the workout view, you go to a comments page where you can read the comments, as well as add your own. If you have activated sharing between team members, every team member can comment. The workout owner and (optionally) everybody else in the discussion thread will get email notifications about new comments.
This is a nice way to record feedback to your athletes.
Compare workouts
At the top of the team workout listing, you will find a button to 'Multi Compare'. It works exactly the same as individual multi compare, except that it allows you to pick workouts from all team members to compare: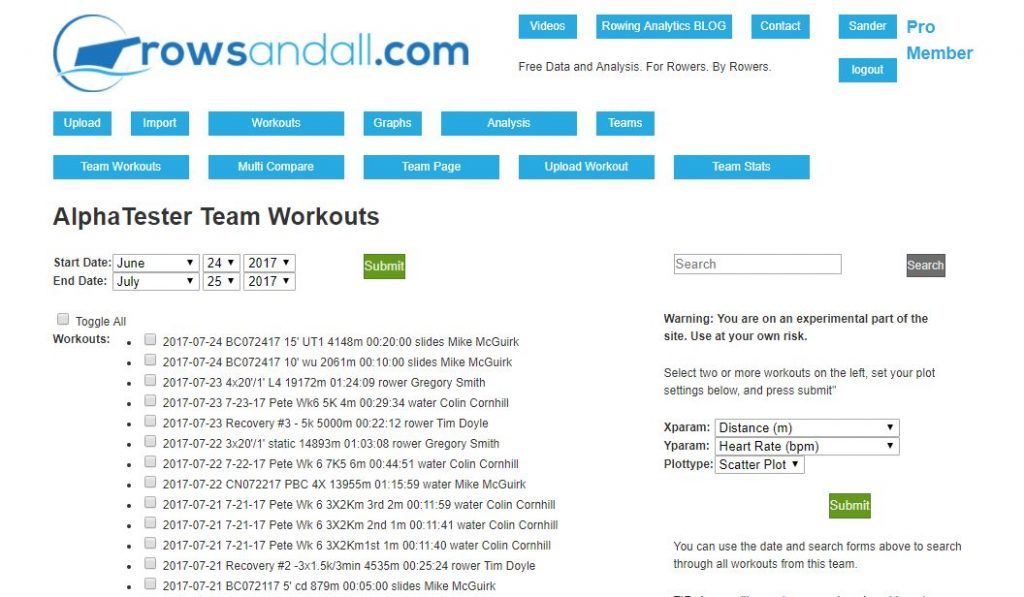 You pick any number of workouts, select the metrics that you want to chart, and submit the form. You can use the date selectors and the search field to find workouts. A pro tip: put tags in the workout name and/or notes field, for easy finding by the search button.
Submitting the form will bring you to a page with the requested interactive chart. Use the tools on the edge of the chart to pan, zoom, and save the chart.
Below is an example where three members of the Beta Testing Team did a 10×90″ workout on the erg.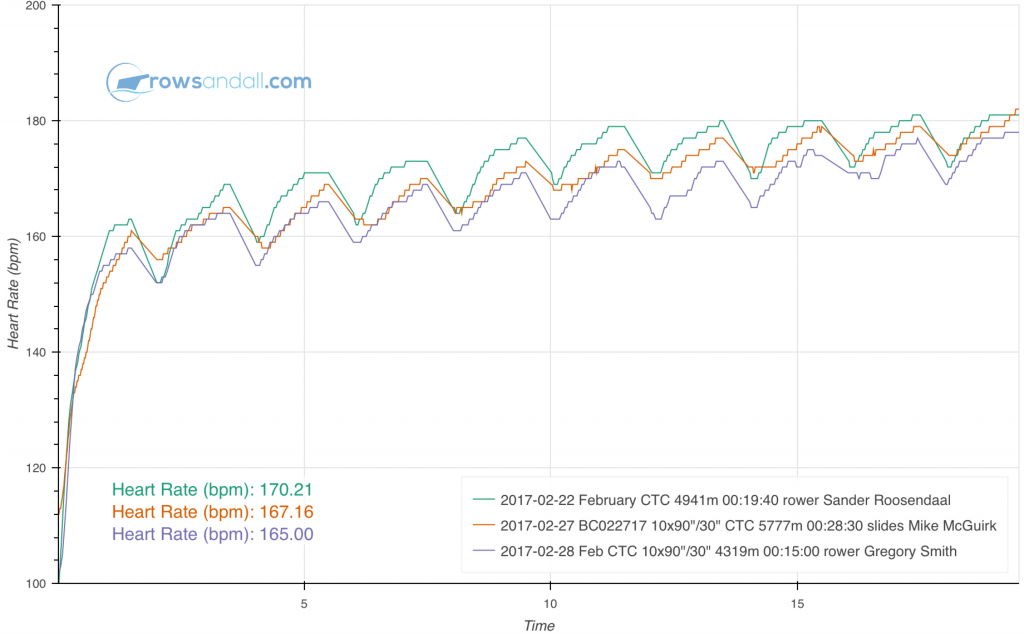 Of course, on the chart page, you can quickly change the metrics plotted. So with two button clicks, we can generate the following chart: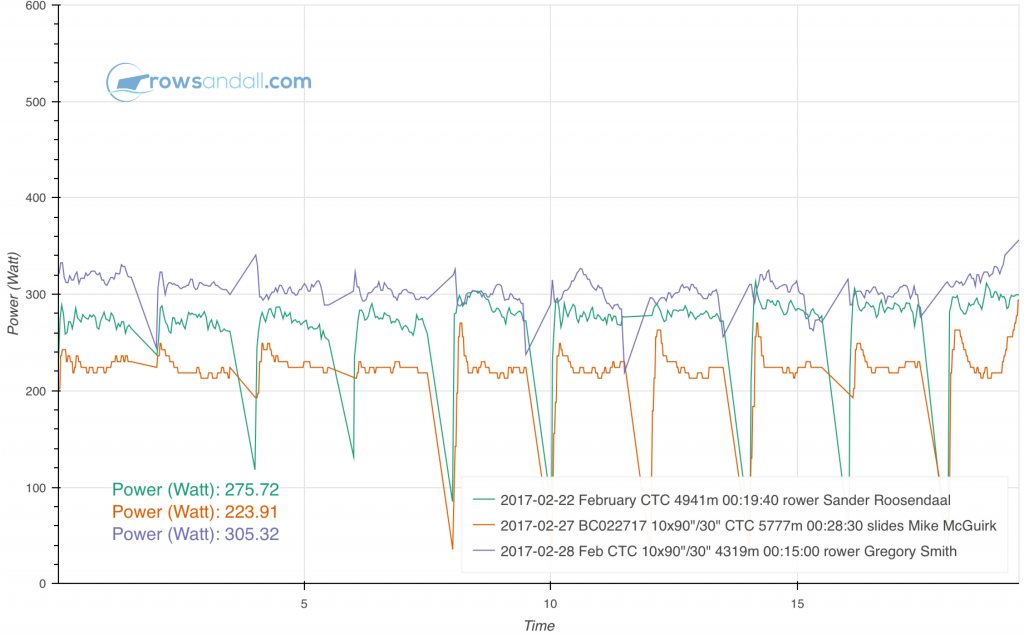 This tool is a great way to compare rowers doing the same workout, and it has proven to be useful for sewt rscing, but you can just as well use the MultiCompare tool to monitor the progress of a single athlete, for example by charting her 2k erg tests or a signature on-the-water workout,
Analysis across multiple workouts
The Team Stats button brings you to a page where you can quickly access functionality to visualize data across multiple workouts for each of your athletes.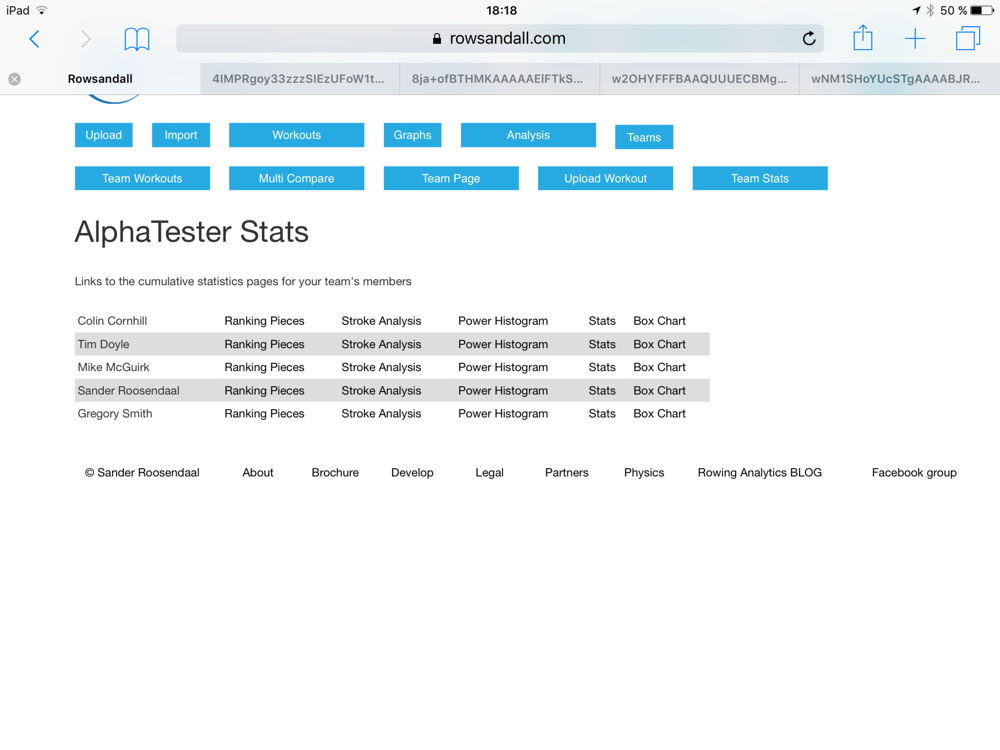 The Ranking Piece chart looks at the power the athlete can hold over time. The Stroke Analysis chart enables you to chart three metrics of your choice for every stroke taken over a date range. The Power Histogram tells you at what power the athlete has been rowing (on the erg). These three charts are explained in this article (click to follow the link). Stats gives you the mean, standard deviation and other useful stats for all metrics over a range of workouts and the Box Chart enables you to look at trends across workouts for your athletes.
Rowsandall's newest Stats Charts, the OTW CP chart and the Trend Flex chart, will also be made available through this page, soon, as will all future new charts.
When you are in one of the Analysis tools, as a coach you will have a quick menu on the top right to switch between your team members, as illustrated in the following two pictures: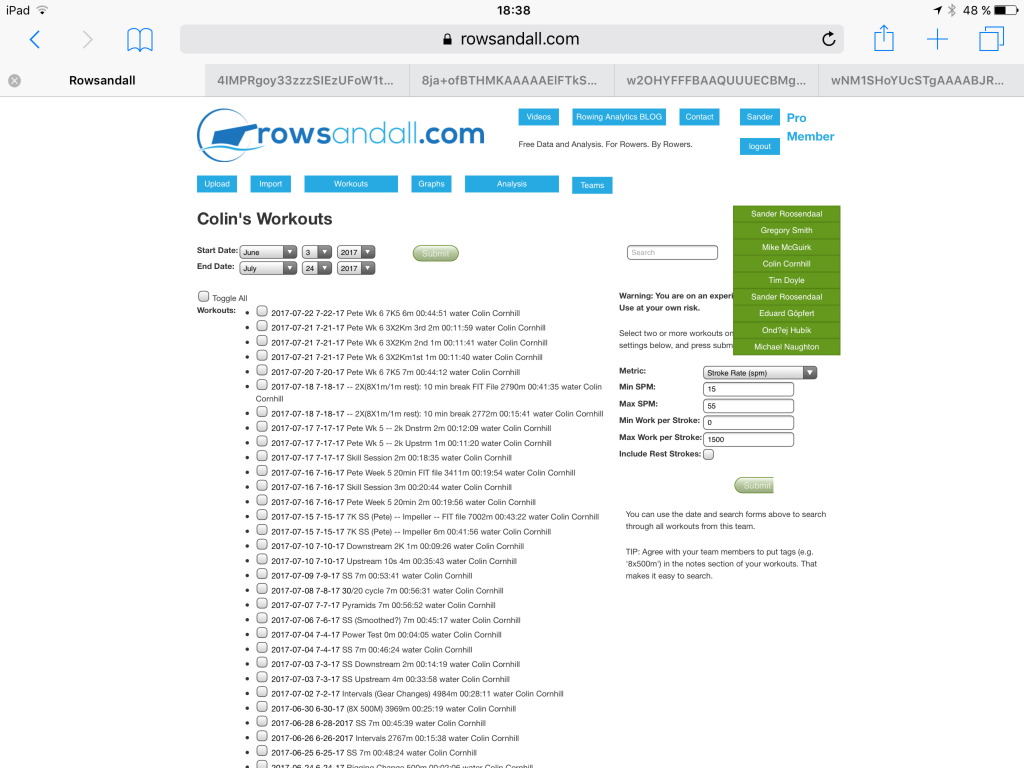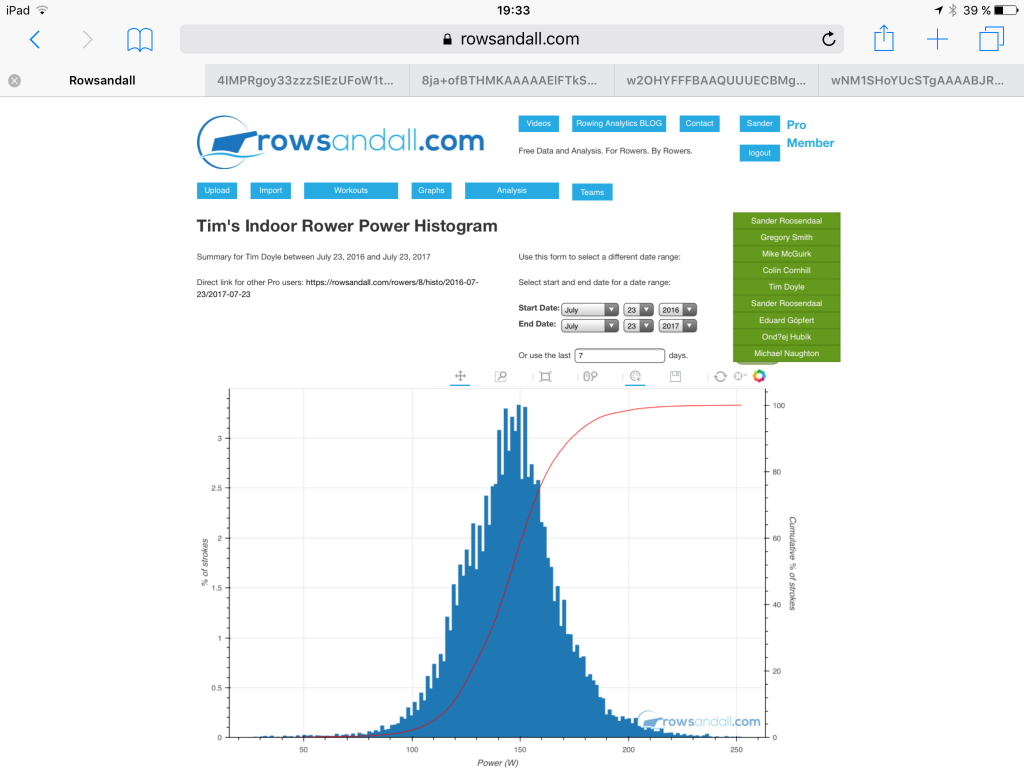 Conclusion
As a rowing coach, you can see, edit, and analyze all of your team members' workouts in one place, independent of the recording device. Rowsandall.com provides meaningful, rowing oriented, analysis and visualization means. Because the site is also attractive for the athletes (Strava sync) we believe that you will not have difficulty to convince your rowers to upload their workouts.
Using training and race data will make your team faster in many ways:
You will have the data to make individual plans based on the athlete's fitness and progress, their individual strengths and weaknesses
Athletes will find motivation from seeing their data and those of their team mates, and reading your feedback. They will ask more questions about the training plan and their progress, making the entire team smarter.
Your crew selection process will be data driven and more transparent. Not only will you be able to select your fastest boat, but you will at the same time communicate to all what is needed to get into the fast boat. This forces you to think through and explain your decisions with the data, and gives the athletes a sense of what they should improve. To me, that sounds like a win-win situation. No more accusations that you selected someone on looks or gut feeling.
You will be able to figure out the best race plan and train to execute it
I believe that rowsandall.com offers a very complete and competitive package to all teams who want to win using a data driven approach.
---
Edited with BlogPad Pro
Really, no obligations. ↩
Price and policy changes will be announced in advance by email. ↩
Some of the screenshots in this article are made from the Apple iPad mini, demonstrating the tablet computer as a very handy coach accessory. ↩