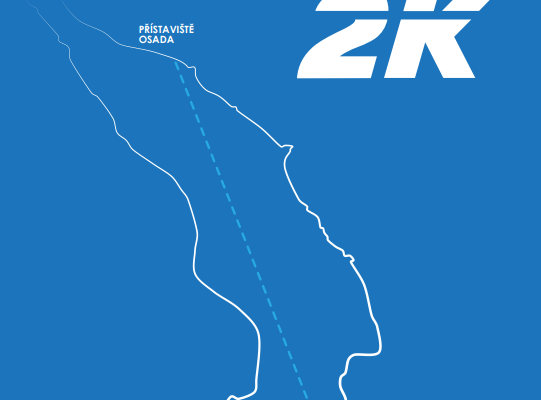 Brněnské 2K
Scroll down for English version
Jsi nejrychlejší veslař na Brněnské přehradě?
1. edice virtuálního závodu na přehradě
Od: 1 června
Do: 21 července
Typ lodi: všechny (1x, 2x, 2-, 4x, 8+)
Vzdálenost: 2000m
Start: Start 2000m dráhy
Cíl: u Sirky
Pro nejrychlejší čas v každé kategorii (lod-ženy/muži-věk) mám pěknou cenu!
(Musí být minimálně jeden soupeř. Minimalní věk 16 let.)

Co je to virtualní závod?
Virtuální závod meří tvůj čas pomocí GPS dat. Nepotřebujeme startery anebo rozhodčí v cíli. Můžeš používat každý přístroj který má GPS (SpeedCoach GPS, hodinky Garmin, Polar, anebo chytrý mobil s aplikací CrewNerd anebo BoatCoach anebo Runkeeper).
Jak se přihlásím?
Vytvoř si účet na rowsandall.com (zadarmo)
Klikni na odkaz "Racing" a zaregistruj si pro závod "Brněnské 2K"
Vezmi lod´ a startuj měření GPS u mola
Zajed´ úžasně rychlý dvoukilák v dráze
Na konci jizdy zastav GPS
"Upload/Import" svoje GPS data na rowsandall.com (tím vytvoříš "workout"). Pokud jsi nejel na skifu, budeš si ještě muset vybrat spravnou disciplínu.
Klikni na Racing a přidej svůj výsledek. Rowsandall.com ti automaticky spočítá čas přes 1900 m
Sleduj jak rychle jeli tvoji soupeři
Myslíš že můžeš zajet ještě rychlejší čas? Krok 3 můžeš opakovat kolikrát chceš.
Pár poznámek
Jedeme podle pravidla Fair Play. Nejed´ to na motoráku. Vyplň disciplínu správně
Není to oficiální závod. Nemáme záchranáře ani rozhodčí. Nedělej hlouposti. Hlídej ostatní provoz na přehradě. Otáčej se. Jak při běžném treninku.
Otázky?
Zeptej se Sandera na ČVK Brno, anebo pošli mail na info@rowsandall.com
Používám Polar Flow
Klikni tady pro návod jak exportovat do formátu TCX který můžete nahrát na rowsandall.com.
Jiné Formáty
Podporujeme následující platformy:
Strava
SportTracks
Runkeeper
MapMyFitness
Aplikace CrewNerd, BoatCoach
CoxMate
SpeedCoach GPS a SpeedCoach GPS 2
Formát TCX a FIT
---
Are you the fastest rower in Brno?
First Edition of the Virtual 2k Race on the Brno Reservoir
From: June 1
To: July 21
Boat type: all(1x, 2x, 2-, 4x, 8+)
Distance: 2000m
Start: Start of the 2000m course
Finish: "u Sirky" – finish of the 2000m course
There will be a nice prize for the fastest time in each boat/gender/age category!
(To win a prize, you need to beat at least one competitor in the same category. Minimal age to participate is 16 years.)

What is a Virtual Race
A virtual race measures your time using GPS data. We don't need starters or referees. You can use any device that is capable of measuring time and GPS position (SpeedCoach GPS, Garmin or Polar watch, or a smartphone with the CrewNerd or BoatCoach app, or using Runkeeper on your phone).
How to register?
Create an account on rowsandall.com (this is free)
Click on the "Racing" link and register for "Brněnské 2K"
Take a boat and start the GPS measuring at the dock
Row an incredibly fast time over the 2000m course
Stop measuring GPS at the end of your row
Upload or Import your GPS data to rowsandall.com (this creates a "workout"). If you didn't race in a single, you will have to correct the boat type on the workout you created.
Click on "Racing" on rowsandall.com and add your result. Rowsandall.com will automatically calculate your time over the course.
Go back to rowsandall.com regularly to check out on your competitors
Do you feel you can improve your time? You can repeat the above steps as many times as you wish.
A couple of notes
This works if people are honest. Don't do the course in a launch. Fill out your true boat type.
Obviously, this is not a "real" race.  There are no officials, referees or safety launches.  Don't do anything stupid. Respect traffic rules and watch out for other traffic, just as in a regular training session.
Questions?
Ask Sander at ČVK Brno, or send an email to  info@rowsandall.com